About Franken Enterprises
Franken Enterprises is a full-service event marketing agency specializing in sports and entertainment events. We have special expertise in event management and public relations. We're a "creative shop" where we consult with our clients to maximize their campaigns. We have a 50-year history in sports and entertainment events, including 50 different sports. And, we are the nation's leading track and field organizers with more than 100 nationally and internationally televised events.
Rest in Peace: Doug Speck, a friend and contributer to track
By Don Franken
I remember going to the Arcadia Invitational while I was competing in track and field at Uni High. The meet was already the finest prep meet in the nation, and it has continued to grow since then. So many of the top U.S. Olympic contenders first gained national attention with outstanding performances at Arcadia. I had the pleasure to work with Doug Speck on the meet for a couple years when I brought Foot Locker aboard as a title sponsor. We also had Doug as an announcer many years for the prep portion of the meet, and Doug Speck along with Mike Kennedy headed up prep selections for our Sunkist Indoor Track Meet. Speck also was a fine track and field writer, and great statistician of the sport. Speck also was an excellent, well-organized, hard-working, track meet organizer who had a rare eye for great talent! That is what made his meet so great.

Speck will be missed by all in the track and field community. He had friends around the globe, and his passing away is a huge loss for the sport. He is a man whose contribution to track and field will continue as the Arcadia Invtitational, April 9-10, 2010, comes around soon!
World-class events with a touch of fun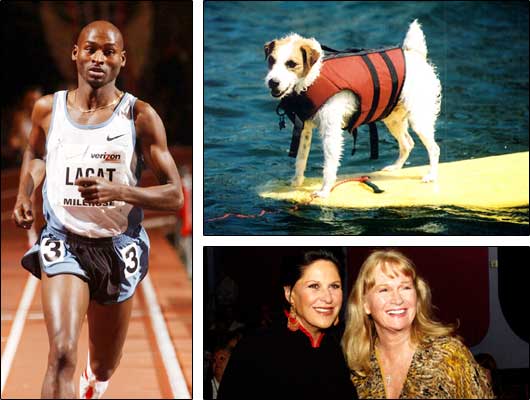 From the brilliance of Bernard Lagat (left), the only miler to win the Los Angeles Invitational Indoor Track Meet five times; to the promotional capabilities of Buddy the skiing dog (top right) at Southern California boat shows; to the acclaimed independent film festival, the Method Fest, Franken Enterprises offers the best in entertainment and sports marketing.