Registration open for 11th Annual
Keep L.A. Running 5K/10K Run, 5K Walk, Coastal Bike Ride
Colonial Supplemental Insurance Keep L.A. Running sponsors | Map page | Features page
Shorter is official starter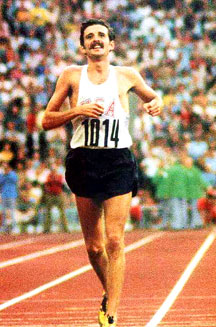 Frank Shorter, the 1972 Olympic marathon champion who inspired America's running boom in the 1970s, will be the official spokesperson and honorary starter for the 11th annual Colonial Supplemental Insurance Keep L.A. Running Charity 5K and 10K Runs, 5K Walk, and 10/20 mile Coastal Bike Cruise, Sunday, July 11, in El Segundo, Calif.
Shorter will be at the El Segundo charity race to welcome the participants and offer them running tips. Shorter will help hand out medals to the top finishers at the event that raises money for several local charities.
Shorter came out of nowhere to win the Olympic gold medal in the marathon at the 1972 Munich Olympics, the city he was born in 1947 as the son of an American army physician stationed in Germany after the war. Shorter was the first American in 68 years and only the second ever to win the Olympic marathon. Four years later, Shorter finished second to East Germany's Waldemar Cierpinski in the Montreal Olympics.
Years later, after the fall of the Berlin Wall, secret documents of the former East German secret police (STASI) revealed that Cierpinski had been enrolled in the government-backed sports drug program. A lifelong advocate of fighting drugs in sports, Shorter became more active after finding out he had been cheated of a second Olympic gold medal. In 2000 he became chairman of the board of the United States Anti-Doping Agency (USADA), an independent organization funded by the United States Olympic Committee and the federal government to test athletes in and out of competition. He resigned in April 2003 due to pressing time commitments required for his numerous business ventures, not before receiving the 2003 Sports Ethic Fellow award from the Institute for International Sports.
As spokesperson and honorary starter of Keep L.A. Running, Shorter follows in the footsteps of Carl Lewis, winner of 9 Olympic gold medals in track and field; Steve Scott, the American mile record holder and testicular cancer survivor; Louie Zamperini, USC Olympian and World War II hero; Johnny Gray, 5-time Olympian and U.S. 800 meters record holder; Olympic legend Billy Mills, the 1964 10,000 meters Olympic gold medalist, and TV star Larry Hagman (J.R. in Dallas) who have all served as spokespersons and honorary starters for Keep L.A. Running.

Registration is now open for the 11th annual Colonial Supplemental Insurance Keep L.A. Running, 5K Walk/Run, 10K Run, and 10/20 Mile Coastal Fun Bike Cruise, to be held Sunday, July 11, in El Segundo, Calif. The Bike Cruise starts at 7:30 am, with the runs/walks at 8 am, and the Kids 1K Fun Run at 9:30 am. This event is presented by PacifiCare.
Competitors can register by mail until July 4 at:
Keep L.A. Running,
c/o Prime Time
PO Box 1009
Twin Peaks, CA 92391
Online registration is available at www.w2promo.com and www.active.com.
On Saturday, July 10, participants can register in person from 11 noon to 5 p.m. at The Village Runner, 1840 Sepulveda Blvd., Manhattan Beach, CA 90266. On race day registration is available from 6:30 am at the race site (Library Park at Main and Mariposa, Downtown El Segundo).
Keep L.A. Running races are open to everyone, from the serious runner to the first-time participant. Early registration (before July 4) fee for the 5K Walk/Run and 10K Run is $20, with souvenir T-shirt included. Late registration is $25. Registration for the Coastal Bike Cruise is $15 (no late registration fee). The Kiddie-K Fun Run registration is $10 (no late fee).
Olympic Marathon legend Frank Shorter, whose triumph at the 1972 Games inspired the running revolution of the 1970s, will be the honorary starter of the event. The day's activities include an aerobic warm-up, a Health and Fitness Expo, Awards Ceremony, Barbecue and the Firestone Walker Beer Garden. Recently elected El Segundo City Councilman Eric Busch will help join Shorter in welcoming the participants at the event.
Over the past nine years, Keep L.A. Running 5K/10K Run, has raised several hundred thousand dollars for participating charities which include the SEIU Local 660 L.A. County/Special Districts Employees Emergency Relief Fund; the Rosa Parks Neonatal Intensive Care Unit at LAC Martin Luther King Jr. Drew Medical Center; the Pediatric Oncology Service, Women's and Children's Hospital of LAC & USC Medical Center; the American Cancer Society, and the Breast/Ovarian Cancer National Alliance. Keep L.A. Running was initiated as a non-profit fundraising event benefiting the Los Angeles County/Special Districts Employee Disaster Relief Fund after the 1994 Northridge earthquake.
The winners of the 5K will be awarded prize money, with $500 for first, $250 for second and $100 for third place in the men's and women's 5K. The 10K winners will receive a complimentary round-trip air ticket, courtesy of race sponsor, Southwest Airlines, anywhere Southwest Airlines flies.
Colonial Supplemental Insurance is the title sponsor of the event. Other lead sponsors include presenting sponsor PacifiCare, Spectera, Spencer Insurance Services, Law Offices of Fensten & Gelber; Kaiser Permanente; Benefit Vision; L.A. County Federation of Labor; Raytheon, Trustmark Insurance, Lewis, Marenstein Wicke & Sherwin; Delta Dental; Loomis-Sayles Company; Gordon Edelstein Krepack Goldstein Felton Grant, and Union Bank.
Keep L.A. Running is a 501 (c) (3) charity, sponsorship contributions are tax deductible.
Media sponsors include the Daily Breeze, Charter Communications, and Time Warner Communications.
Registration information is available at (310) 828-4123. To volunteer for the race call Walt Walston ast (310) 828-4123 or Alejandro Stephens at (213) 368-8633. For sponsorship information call Don Franken (310) 535-9230.