11th Annual Keep L.A. Running 5K/10K Run
Colonial Supplemental Insurance Keep L.A. Running sponsors | Map page | Features page
Shorter was official starter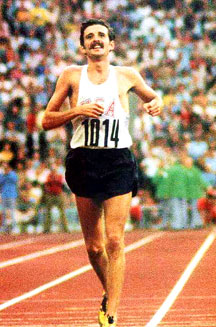 Frank Shorter, 1972 Olympic marathon champion
Frank Shorter, the 1972 Olympic marathon champion who inspired America's running boom in the 1970s, was the official spokesperson and honorary starter for the 11th annual Colonial Supplemental Insurance Keep L.A. Running Charity 5K and 10K Runs, 5K Walk, and 10/20 mile Coastal Bike Cruise, Sunday, July 11, in El Segundo, Calif.
Shorter was at the El Segundo charity race to welcome the participants and offer them running tips. He helped hand out medals to the top finishers at the event that raised money for several local charities.
Shorter came out of nowhere to win the Olympic gold medal in the marathon at the 1972 Munich Olympics, the city he was born in 1947 as the son of an American army physician stationed in Germany after the war. Shorter was the first American in 68 years and only the second ever to win the Olympic marathon. Four years later, Shorter finished second to East Germany's Waldemar Cierpinski in the Montreal Olympics.
Years later, after the fall of the Berlin Wall, secret documents of the former East German secret police (STASI) revealed that Cierpinski had been enrolled in the government-backed sports drug program. A lifelong advocate of fighting drugs in sports, Shorter became more active after finding out he had been cheated of a second Olympic gold medal. In 2000 he became chairman of the board of the United States Anti-Doping Agency (USADA), an independent organization funded by the United States Olympic Committee and the federal government to test athletes in and out of competition. He resigned in April 2003 due to pressing time commitments required for his numerous business ventures, not before receiving the 2003 Sports Ethic Fellow award from the Institute for International Sports.
As spokesperson and honorary starter of Keep L.A. Running, Shorter follows in the footsteps of Carl Lewis, winner of 9 Olympic gold medals in track and field; Steve Scott, the American mile record holder and testicular cancer survivor; Louie Zamperini, USC Olympian and World War II hero; Johnny Gray, 5-time Olympian and U.S. 800 meters record holder; Olympic legend Billy Mills, the 1964 10,000 meters Olympic gold medalist, and TV star Larry Hagman (J.R. in Dallas) who have all served as spokespersons and honorary starters for Keep L.A. Running.